BRILHO – Boosting companies, and lighting lives!
17.02.2021 //
To boost the off-grid market in Mozambique and promote business initiatives that provide clean and accessible energy solutions to the population and companies, the BRILHO programme launched on February 12, 2020, its first call for proposals. The call focused on Solar Home Systems, Green Mini-Grids and Improved Cooking Solutions business initiatives.
BRILHO offers selected companies a unique mix of structured non-reimbursable funding (Catalytic Grants and Results Base Financing) and up to £ 1.5 million (~ 2MUSD), specialised support, to de-risk business initiatives aiming to achieve competitive commercial returns and provide off-grid energy solutions.
Although the first call coincided with the beginning of the pandemic in Mozambique, the results achieved were highly positive, even exceeding expectations. This was possible thanks to the various platforms such as ALER that gave continuous visibility to the call.
In 3 months, 64 business initiatives were submitted with the following technological division; 19% focused on green mini-grids, 38% on Solar Home Systems, 19% on Improved Cooking Solutions and 24% proposing a combination of these technologies. As a result of the first evaluation process, 29 initiatives were invited to develop and submit a proposal including a complete business plan. The investment approval process is carried out by an independent panel that has confirmed, so far, the selection of 15 business initiatives for contract signing. Currently, 10 companies have already signed a contract and have started implementing it, and for the rest, the process will be completed shortly. Mini-grid applications, considering regulatory requirements, will be completed, and selected in the coming months.
BRILHO's current portfolio consists of a variety of initiatives profiled as follows:
The geographical split is seen below.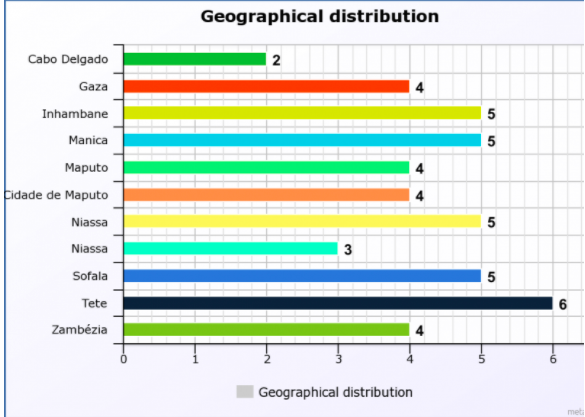 The initiatives take approximately 2.5 years to implement and have the potential to benefit thousands of Mozambican families and activate, through various small businesses, the local economy and industry. By the end of 2024, business initiatives, supported by the BRILHO programme, are expected to provide 1.5 million Mozambicans and 15,000 local businesses with access to off-grid clean energy solutions.
About ALER
ALER is an NGDO (Non-Governmental Development Organisation) with the mission to promote renewable energies in portuguese-speaking countries. To read this article published on ALER, please visit their website.