Application Process

Submission of MDF Bid

Submission of CG detailed planning (optional)

Learn more
What we do
BRILHO is a five-year programme, 2019 - 2024, that will catalyse Mozambique's off-grid energy market in order to provide clean and affordable energy solutions to the country's off-grid population. BRILHO's overall goal is to improve and increase energy access for people and businesses, leading to money saving, better well-being and livelihood opportunities for the low income population.
What we offer
BRILHO offers selected companies a unique mix of structured non-reimbursable funding and specialised support, to de-risk business initiatives that aim to achieve competitive commercial returns and provide off-grid energy solutions to low-income markets. Alongside, BRILHO supports the sector ecosystem development by improving access to information, setting quality benchmarks and advocating for a better regulatory framework.


Scope of Technologies
Improved Cooking Solutions (ICS)
BRILHO will take a broad definition of ICS, including biomass stoves (that offer at least 40% reduction in the use of fuels for cooking over the current technologies being used) and non-biomass stoves, allowing to support the use of alternative fuels: wood, charcoal, pellets, briquettes, biogas, ethanol, etc.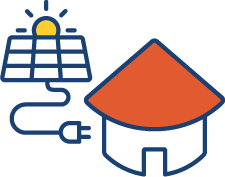 Solar Home Systems (SHS)
Universal access requires that households have at least SEforALL Tier 1 electricity, including access to improved lighting and communication. Particularly when linked to Pay-As-You-Go (PAYG) mobile money technology, SHS are recognised as a quality affordable solution for off-grid households, as well as to power micro, small and medium enterprises (MSMEs) with a range of productive use options.
Green Mini-Grids (GMG)
Rural economic growth cannot happen without energy. Small direct current (DC) and larger grid-equivalent alternating current (AC) Green Mini-Grids (GMG) provide an opportunity to deliver higher energy service levels to both households and MSMEs.